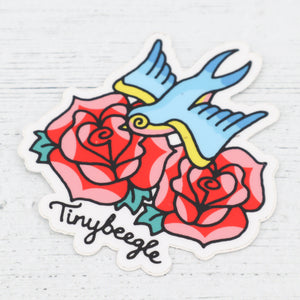 Stick 'em up! These versatile stickers are made with durable waterproof vinyl that resists sunlight, heat & scratches so you can quite literally stick them anywhere! 
Sticker measures approx. 7 x 8 cm
Featuring the following tinybeegle illustrations:
Swallow and rose - tinybeegle's signature illustration in her distinctive vintage tattoo style.
Danielle Williamson is a freelance illustrator, graphic designer, sewing superior, and crafty genius! based in Headcorn, Kent . Under the guise of Tinybeegle she creates a range of hand crafted items from embroidered necklaces and childrens' clothing to unicorn headbands and vintage inspired illustration.  She also creates all of the Made In Ashford and Craftship Enterprise branding and merchandise.