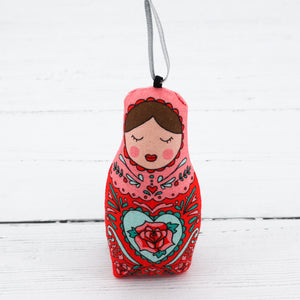 Russian doll hanging decoration.  Suitable for your Christmas tree, or for all year round.

From an original illustration by Tinybeegle, printed onto fabric, then hand sewn

Decoration measures approx. 5.5 x 12cm

Danielle Williamson is a freelance illustrator, graphic designer, sewing superior, and crafty genius! based in Headcorn, Kent . Under the guise of Tinybeegle she creates a range of hand crafted items from embroidered necklaces and childrens' clothing to unicorn headbands and vintage inspired illustration.  She also creates all of the Made In Ashford and Craftship Enterprise branding and merchandise.