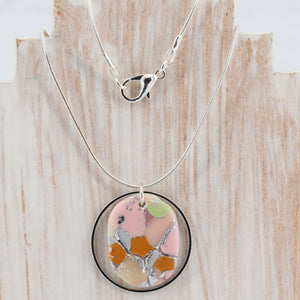 Pink marbled necklace

A beautiful handcrafted pendant necklace.

A unique polymer clay pendant with a beautiful pink colour palette, hangs from a silver plated chain with a lobster clasp. A simple silver hoop hangs behind for extra detail and statement.

Approx 18inches long.

Each necklace comes on a beautiful card ready to gift.

All our packaging is sustainable and100% recyclable.

Please Note: Due to the handmade nature of these designs no two will ever be identical therefore what you receive may not be exactly as pictured but all are made to the same design and specifications.
Steph at Bumble & Bees works with Polymer Clay. It's a really versatile medium and she loves experimenting with botanical prints, natural imprints, adding handcrafted details and a touch of metal leaf for a little added sparkle here and there! Some designs have natural petals or leaves embedded in the clay to create totally unique pieces. Each piece is entirely handcrafted by Steph from a little cottage in the Kent countryside and no two will ever be exactly the same!