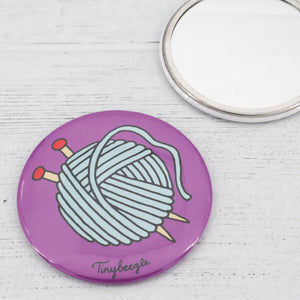 Knit happens pocket mirror featuring original illustration by Tinybeegle. 
Have you ever caught a glimpse of your reflection and wished you had looked in a mirror? Well now there ís no excuse with these handy little pocket mirrors from Tinybeegle. Each mirror measures 76mm (3 inch), is perfect for popping into a small handbag or purse and features one of Tinybeegle's original illustrations in her distinctive style.
76mm diameter
Designed & Made in the U.K.
Design on one side with one standard glass mirror on the other side
Metal Mirror surround
Please note Pocket mirrors are made with real glass mirrors and not suitable for very young children.
Available in all the following designs (please see Tinybeegle's section on the website for current availability):
Frida Khalo - The iconic Mexican artist with a parrot, butterflies and exotic plants inspired by those in her paintings 
Sailor girl - Ahoy there! A vintage pinup style sailor girl gazing out to sea. Detail taken from Tinybeegle's original vintage nautical 'Ahoy There' print. 
Sailor guy - Ahoy there! A vintage style sailor taken from Tinybeegle's original vintage nautical 'Ahoy There' print

Let sleeping foxes lay - cute fox snuggled up in his cosy bed of leaves
Swallow and Rose - Tinybeegle's signature bird and rose illustration
Knit Happens - ball of wool and knitting needles on a purple background, perfect for all the knitting addicts out there
Russian doll - gorgeous folksy style matryoshka