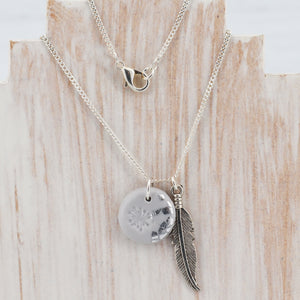 A beautiful handcrafted charm necklace. 

A handmade polymer clay charm with a delicate imprint and metal leaf detail hangs from a plated chain with lobster clasp. A simple metal charm has also been added for extra detail. 

The chains are approx 18inches long.
This necklace works beautifully with our simple stud earrings.
Each necklace comes in a beautiful 'Bumble & Bees' gift box.
See end photos for other available colours
As this is a handmade item each varies slightly from the photos shown but all are made to the same colours and specifications etc.
Steph at Bumble & Bees works with Polymer Clay. Its a really versatile medium and she loves experimenting with botanical prints,  natural imprints, adding handcrafted details and a touch of metal leaf for a little added sparkle here and there! Some designs have natural petals or leaves embedded in the clay to create totally unique pieces. Each piece is entirely handcrafted by Steph from a little cottage in the Kent countryside and no two will ever be exactly the same!