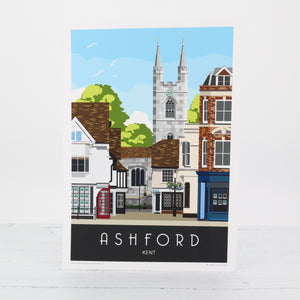 Popular with Ashford residents past and present, this railway style travel poster is the perfect piece of wall art to decorate your home. A nostalgic reminder of Ashford, Kent for anyone who has moved away. It has been printed onto good quality paper using light fast inks, so will keep its vibrant colours for years to come.
A4 art print

Railway poster style

Fits a standard size frame

Product reference WOS011
White one Sugar are a small group of Kent based artists producing scenes from around the country in the style of old Railway/travel posters.