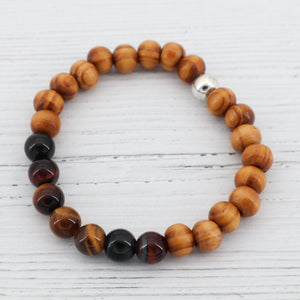 Genuine gemstone and wooden beads on strong clear elastic.
Bracelet measures approximately 20cm in length.
The tiger's eye crystal meaning is associated with courage and confidence which comes from understanding your true desires.  Tiger's eye is a stone that helps you discover your authentic self through testing your perceived limitations.  It is also know as a great protector.
Crystals of the Moon started out on Etsy 2012 selling wire wrapped necklaces and crystal bracelets. Inspired by nature and the spiritual world, Crystals of the Moon jewellery specialises in themes surrounding the Chakras, Archangels, Wiccan, pagan and mythical beings.